NOSTALGIA FEST '11
The time has come again for Nostalgia Fest!!!!! Now with more exclamation points!!!!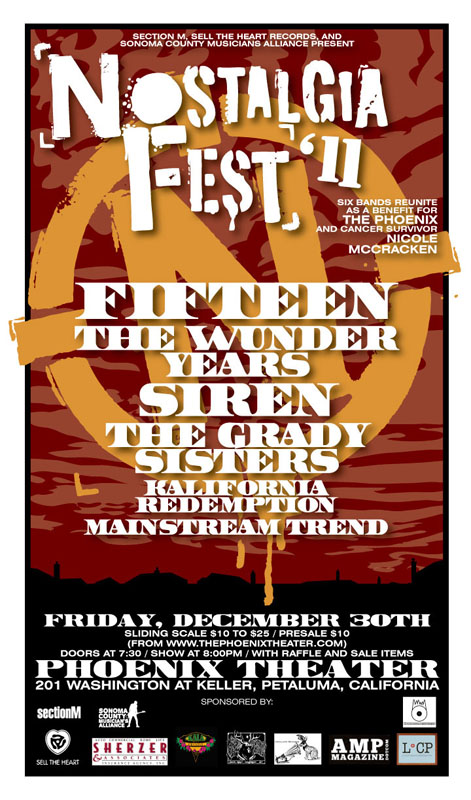 Friday, December 30th, 8pm (bands promptly at 8:25pm)

Presented by Section M, Sell the Heart Records & Sonoma County Musician's Alliance

REUNIONS FROM (no, we're not kidding):

Fifteen
The Wunder Years
Siren
The Grady Sisters
Kalifornia Redemption
Mainstream Trend

Also important: this show is going to be 100% A BENEFIT, half for the Phoenix Theater, and half for cancer survivor Nicole McCracken (wife of Kevin McCracken, drummer for Siren, Engage, etc) who are pretty much drowning in debt, thanks to our awesome American healthcare system.
Show will be all ages, meaning no alcohol served this time.
See you in December!
@ The Phoenix Theater
201 Washington Street, Petaluma, CA

We're definitely in need of VOLUNTEERS – contact us at the Nostalgia Fest Facebook profile (below), or at Facebook Event Page (so we can send you updates):

Please also Friend Request the Nostalgia Fest profile to make it easy to update you and contact you about future year Nostalgia Fest events:
http://www.facebook.com/nostalgiafest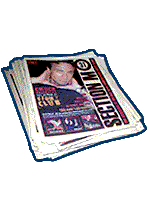 (NEARLY) FULL SET
I'll send 'em to you for the cost of shipping
September 1998 to June 2003
I still have about 40 sets of these, and they're taking up a whole shelf unit in my garage. I need to clear them out at some point.
So, for a limited time, we are selling full sets of all the issues I have left (average: about 29 of them per set) for the low, low price of whatever shipping costs (probably about $10 for a flat-rate Priority package).
Don't miss out, because when they're gone, they're gone forever. I'll probably be giving away what I have left here for free at the Nostalgia Fest this year.
Super, gigantic collector pack comes with a special plastic bag and our eternal gratitude.
If you're from outside the U.S., please write me for international shipping rates.
And if you were in one of the bands in a particular issue, I still have stacks of SOME issues that I can send you a bunch of.
Write me, and we'll work it out.